Toddlers (18-36 months old)
Staff to child ratio: 1:6/7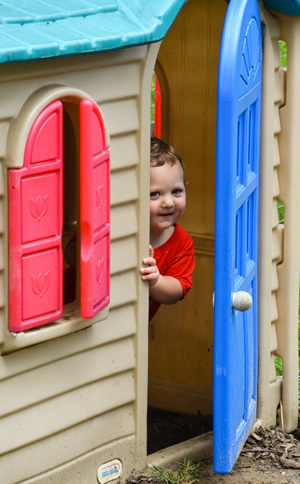 Children enter the Center's toddler program at 18 months. As in the infant rooms, teachers practice primary caregiving so each toddler can continue to grow in trust, self-confidence and social competence.
Believing that children learn best through play, teachers give toddlers plenty of time for free play where the children choose to interact with age-appropriate toys, use climbing equipment, read in the book corner or engage in dramatic play. Art and music also stimulate creativity and language development.
Toddlers are always on the move and the environment offers toddlers lots of space to run, jump, climb and dance. The children have their own playground with equipment that is especially designed for toddlers. Riding toys, a play station, swings, dramatic play houses, and sandbox make up the attractive and well-maintained play yard where the children spend the majority of their time when the weather permits.
Academic concepts such as learning the alphabet, counting and color recognition are woven into the daily activities. Teachers support emergent literacy skills through frequent storytelling and surrounding the children with many print materials. Teachers encourage language development as adults listen and respond to the children as they begin telling their own stories.
Communication between parents and teachers continues to be very important especially as children become more independent, including learning to use the bathroom.
Toddler Photo Gallery
(Click image for larger view)