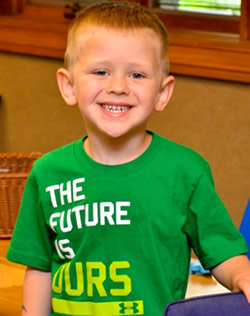 The Center's preschool and prekindergarten program is designed to meet the diverse needs of young children: social interaction with their peers, stimulation for their inquisitive minds, space to explore new body skills, development of their communication skills, and a fostering of independence and self-confidence.
"The center does a great job of getting children ready for kindergarten, recognizing each individual strengths and teaching them to respect and treat others well."
Survey respondent, February, 2013

What Will I See in a Classroom?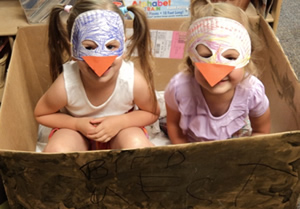 Parents and visitors will find evidence in the Center's rooms to support what the National Association for the Education of Young Children suggests for high quality settings:

• Children spend significant time playing and working with materials or other children.
• Children have freedom to choose multiple activities throughout the day.
• Teachers work with individual children, small groups, and the whole group at different times during the day.
• Children's original artwork, their own writing with invented spelling, and stories dictated by children to teachers decorate classroom walls.
• Children learn numbers and the alphabet in the context of their everyday experiences.
• Children work on projects and have long periods of time to play and explore.
• Children have an opportunity to play outside every day.
• Teachers read books to children individually or in small groups throughout the day.
• The curriculum is adapted for those who are ahead as well as those who need additional help.

In addition, children come to know and love a good God through the care and respect they receive from teachers who witness Gospel values. As did the boy Jesus, children grow "in age, wisdom and grace" by dramatizing biblical stories, praying before meals and learning to "love their neighbor."

What Will My Child Learn?
Ohio's Early Learning and Development Standards form the basis of the curriculum.  Lesson plans focus on five areas:
Language and Literacy Development: (skills related to learning of language, reading and writing, i.e., growing vocabularies, oral communication, recognizing print, letter recognition)
Social and Emotional Development: (behaviors that reflect a child's emotional growth and ability to successfully interact with adults and peer, i.e. self-regulation, playing with others)
Approaches Toward Learning: (initiative and curiosity, level of attention, engagement persistence, creativity, art and music)
Physical Well-Being and Motor Development: (motor skills and health practices)
Cognition and General Knowledge: (child's knowledge of social and physical world, memory, reasoning, problem-solving, understanding and using skills related to science, mathematics and social studies)
"Play builds the kind of free-and-easy, try-it-out, do-it-yourself character that our future needs."
~ James L. Hymes Jr. (child development specialist, author)

How Will My Child Learn?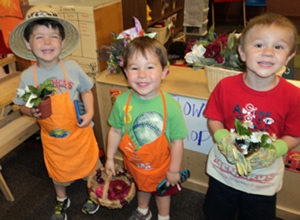 In keeping with developmentally appropriate practice for young children, play is the medium for learning at Maria Early Learning Center.
The daily schedule provides ample time for children to explore their environment, engage their imaginations and exercise creativity.
How Will My Child Be Assessed?
Preschool and PreK teachers use an online portfolio assessment tool recording skills children learn as well as including samples of the child's work that give evidence of skills acquired.
Preschool Photo Gallery
(Click image for larger view.)