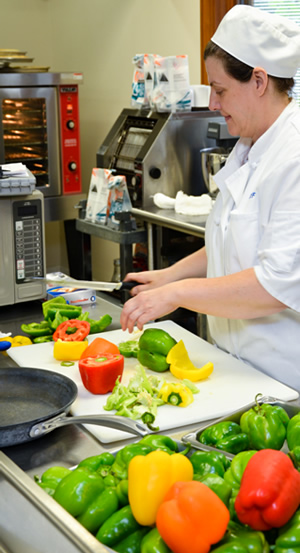 At Maria Early Learning Center, we understand the importance of providing good nutrition for optimal physical health and learning. Daily we serve breakfast, lunch and an afternoon snack. Parents of infants have the option of choosing the center-provided formula and pureed foods for their baby.
A certified chef plans and prepares nutritious, healthy menus by meeting the nutritional requirements of all ages of children, from infants to school-agers. A priority for the chef is the use of regional foods or fresh herbs from the Center's garden when in season. Weekly menu choices are low in sugar and fat. We serve milk produced from grass-fed cows and is hormone or antibiotic free.
Center teachers strive to create a pleasing, relaxed atmosphere in which the children can eat, socialize and enjoy meal time together. Beginning with the older infants, all groups that gather for a meal together begin by praying in gratitude for the food they will share.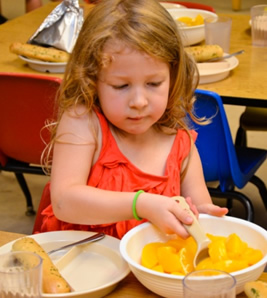 As soon as it is age appropriate, children begin the process of family-style serving. Child-sized pitchers, utensils, and bowls are the perfect size for children to practice and master pouring and serving skills. Research shows that family-style meals encourage better nutrition, better health, better behavior, and happier children.
Children experience first-hand proper table manners and meal etiquette. They learn about eating and serving sensible portion sizes, and they are encouraged to sample and enjoy new foods. Our teachers serve as role models and join children at the table during meals, modeling appropriate behavior, and encouraging children to try everything on their plate.